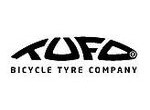 Tufo
Company TUFO was founded in 1991, based on more than 25 years of experience in rubber tyre industry of Mr. Miloslav Klabal ??" founder and spirit leader of the company in one person.
Select by Category


Tubulars - Road & Track Tubulars.

Shop with confidence.
Mailing List
Joining our mailing list will get you ahead of the game on the latest offers and updates to this site. If you wish to subscribe, just put your email address into the box above and click "SUBSCRIBE". Please ensure that your SPAM blocker does not block our messages by mistake!