It is no longer a legal requirement, to wear face masks in shops. However, it would be appreciated, if those with "Flu like" symptoms postpone their visits. Despite the relaxing of restrictions, only one customer (Or party), at a time, is allowed to enter the shop. Please wait by the gate, if there is someone in the shop when you arrive (Or join queue if already formed).




Don't get in the middle of a bad chain reaction.
Get the most out of your chain but not at the expense of your sprockets and chainrings. A chain wear gauge will tell you when you need to renew the chain. We offer two types, the more sophisticated being the Park Tools version, whilst the VAR chain checker is a simple go/no go gauge, that is a lot cheaper.
cyclebasket.com News
Holiday Closure 2023
**UPDATED As it seems to have stopped raining, it would seem opportune to take a week off; the first in over a year! The shop and website will therefore be closed between Monday 4th September and 9am on Monday 11 September. UPS will deliver any outstanding online orders.
Published Saturday 2 September 2023, Updated Saturday 2 September 2023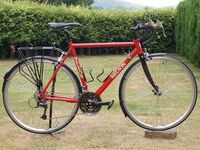 A return to sanity
**UPDATED There are those who feel that bikes have become too much a manifestation of vanity and that they have become complicated beyond reason.
Published Thursday 21 July 2022, Updated Tuesday 9 May 2023

Shop with confidence.