PLEASE NOTE THAT CUSTOMERS ARE REQUIRED TO WEAR FACE MASKS BEFORE THEY ENTER THE SHOP (BIKE SHOPS ARE STILL ALLOWED TO REMAIN OPEN). WEARING A MASK REDUCES THE RISK OF THE WEARER PASSING ON COVID 19, SO I AM TOLD, BY A MULTIPLE OF SEVEN. Only one customer, at a time, is allowed to enter the shop. Please wait by the gate, if there is someone in the shop when you arrive (Or join queue if already formed, maintaining 2m rule)




Still hard to beat!!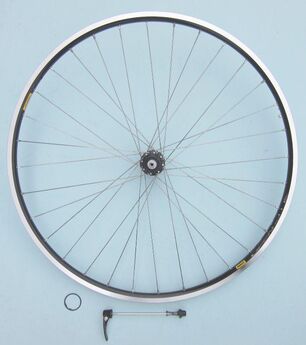 A properly built traditional wheel still has much to commend it, particularly for the cyclist who has to fund his or her own sport. Each spoke costs pence, rather than pounds and is also easy to get. Traditional spokes are still much as they have been for many years, simply being available in varying gauges and lengths.
Few, if any, minimal spoke, factory wheels are as completely round as a traditional 32 or 36 hole wheel. The reduction in the number of spokes results in the need for a heavier rim, which is able to tolerate being supported in fewer places. In quite a few cases, this results overall in a heavier wheel.
The Mavic Open Pro rim, built around a Shimano 105 hub, is a good balance of lightness, reliability, serviceability and value.
Click Here
to read a review of our wheels.
cyclebasket.com News
Belated break.
**UPDATED Finally, after numerous delays, the shop and website will be closed for the week beginning 8th November, for what could be called a "Working holiday". Any outstanding orders, from the previous week, will be collected, by DPD, on Monday 8th November. Inward correspondence, sent during the following week, will be dealt with on Monday 15th November.
Published Friday 29 October 2021, Updated Friday 29 October 2021

Shop with confidence.